Enhance Workplace Safety with Be Safe Ltd's Arc Flash Calculation Studies Service

In today's fast-paced industrial landscape, prioritizing workplace safety is paramount. At Be Safe Ltd, we understand the importance of keeping your workforce safe from electrical hazards. That's why we are proud to introduce our Arc Flash Calculation Studies Service, designed to assess and mitigate the risks associated with arc flash incidents. In this blog post, we will delve into the details of our service, highlighting the benefits of arc flash calculations and providing insights into the Arc Flash PPE selection guide as per NFPA 70e 2024.
Understanding Arc Flash Calculations:
Arc flash incidents can result in severe injuries, equipment damage, and even fatalities. Therefore, it is crucial to have a comprehensive understanding of the risks associated with electrical arcs. Arc flash calculations offer valuable insights into how an electrical system behaves during a fault condition, allowing us to optimize the system for safety and prevent hazards before they occur. These calculations are performed based on recognized industry standards, such as NFPA 70E. The data obtained from these calculations serves as a foundation for creating a safer working environment.
Benefits of Arc Flash Calculation Studies: By conducting arc flash calculation studies, we can:
Identify over-dutied electrical devices and miscoordination of overcurrent protection devices within your facility.
Determine the incident energy levels and arc flash boundaries, enabling the estimation of hazard risk categories (HRC) that workers may be exposed to while working on electrical equipment.
Ensure compliance with arc flash codes and regulations, such as NFPA 70E.
Establish safe work conditions and minimize the likelihood of accidents, protecting both your employees and your valuable assets.
Arc Flash PPE Selection Guide as per NFPA 70e 2024:
Personal Protective Equipment (PPE) is an essential component of arc flash safety. It is crucial to select the appropriate PPE based on the incident energy exposure workers may encounter. As per the guidelines of NFPA 70e 2024, Be Safe Ltd provides an Arc Flash PPE Selection Guide to assist you in choosing the right protective gear for your employees. This guide aligns with the incident energy analysis method and ensures compliance with the latest standards. It categorizes PPE requirements based on the expected arc flash explosive energy level of the equipment being inspected.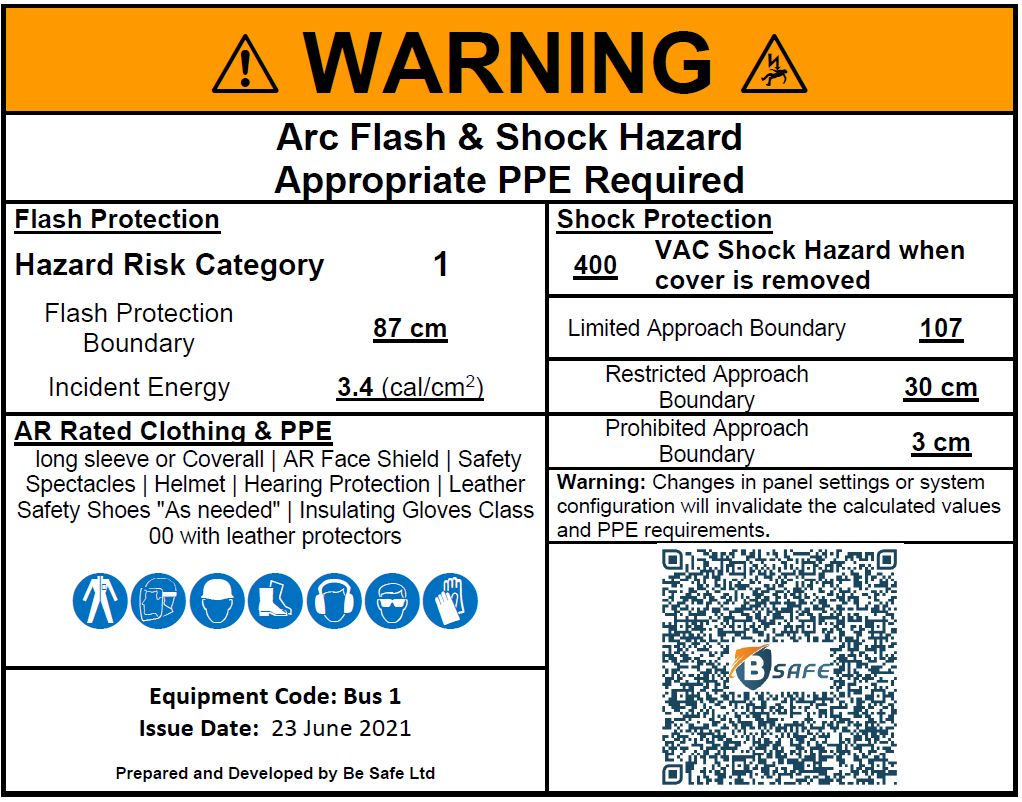 By adhering to the Arc Flash PPE Selection Guide, you can ensure that your employees have the necessary protection to mitigate risks and work safely in potentially hazardous environments.
Partner with Be Safe Ltd for a Safer Future:
At Be Safe Ltd, we are dedicated to providing top-notch Arc Flash Calculation Studies and ensuring workplace safety. Our experienced professionals utilize industry best practices, advanced tools, and a deep understanding of NFPA guidelines to deliver accurate results. By partnering with us, you can create a safer work environment, protect your employees, and safeguard your operations.
Contact us today at to learn more about our Arc Flash Calculation Studies Service and how we can tailor it to your specific needs. Let's work together to eliminate electrical hazards and promote a culture of safety in your organization.
#WorkplaceSafety #ArcFlashCalculations #ElectricalSafety #SafetyFirst #PPESelection #NFPA70e #BeSafeLtd